Escorca is a Spanish municipality on the northern coast of Mallorca and is formed by the towns of Escorca, Lluc, Cala Tuent and sa Calobra.
You have probably seen pictures or heard about Torrent de Pareis and sa Calobra, both nature masterpieces that undoubtedly create an everlasting impression in the minds of those before them. And if you have not had that chance yet, we invite you to discover these remarkable places, and others among the most important you can find here.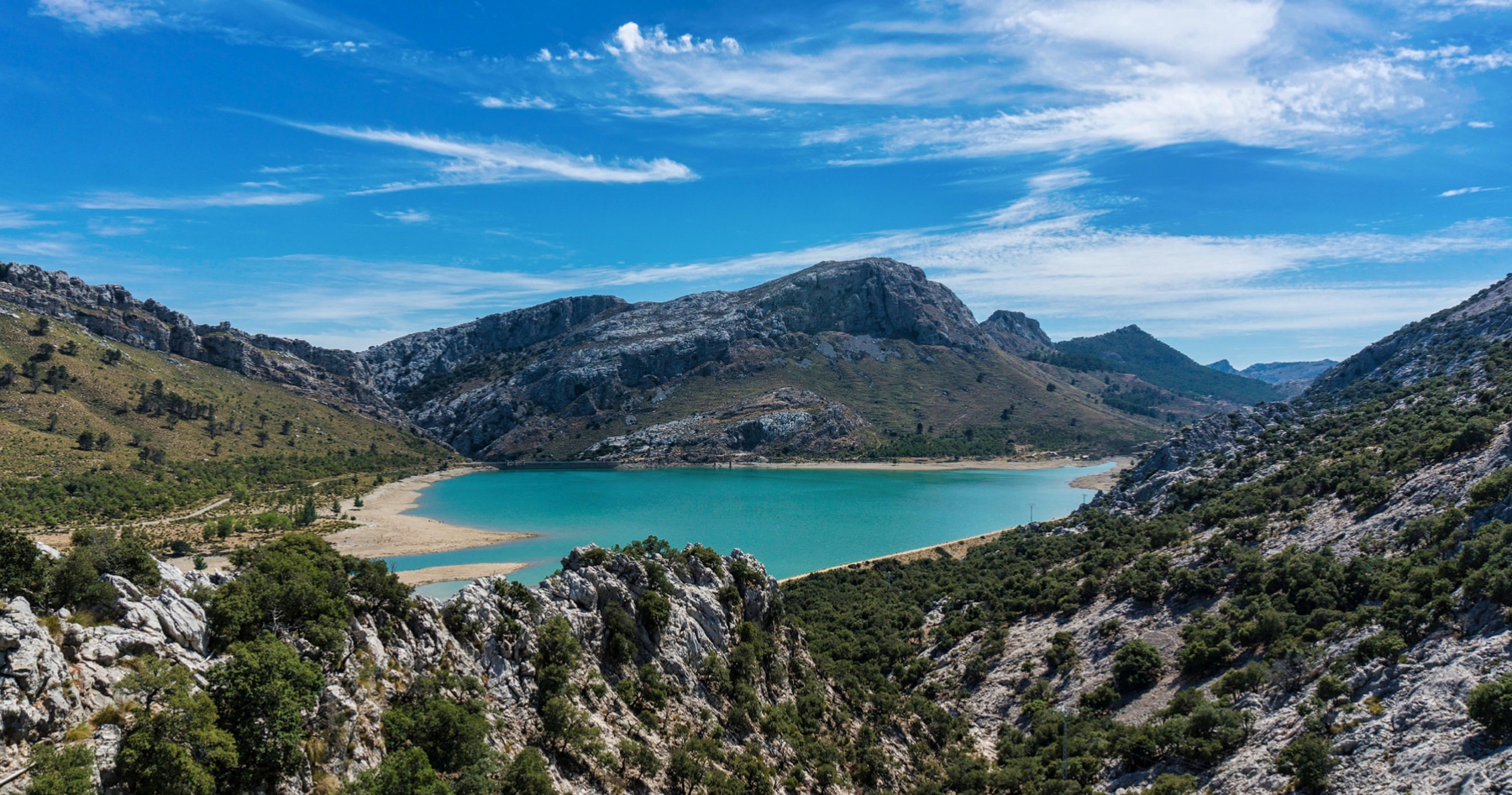 How to get there
What to see
Sa Calobra
Sa Calobra is the union of two beaches, sa Calobra beach and the Torrent de Pareis, standing as a very popular area among tourists who visit the island of Mallorca.
Cala Tuent
It is an impressive virgin cove in the Serra de Tramuntana. With coarse gravel and stunning landscape, it is sheltered by the powerful shadow of the Puig Major peak, only allowing the sound of the breeze and the sea in the background. Cala Tuent waters are ideal for snorkelling. It is rather secluded and can be accessed after covering almost the entire length of the road to sa Calobra. Cars must be parked along the road, next to the cove.
Lluc Monastery
It is a very important sacred and pilgrimage site in Mallorca. It is located in a Sierra de Tramuntana valley and can be accessed by road. We can also get there by public transportation, from Inca or Palma by bus, but direct bus service or transfer in Inca will depend on the day of the week. There will be availability of bus routes from Can Picafort, Alcudia and Pollença during high season.
Antonio Gaudí, the famous architect, guided the embellishment of this temple.
The monastery is accessed from Plaça dels Peregrins, a square with beautiful gardens and an ancient stone cross dated 1400 AD.
You can visit the church and see the patron saint of Mallorca, known as Mare de Déu de Lluc and Moreneta for the dark tone of her skin. Also, visit the museum, the lush botanical garden and learn about the history of the monastery. Do not leave before tasting the always delicious Mallorcan food from one of the two restaurants.
There is also a school here, Escolanía de Lluc. The voices of the children's choir, known as 'the Blauets de Lluc', can be heard from different points of the monastery every day.
The monastery also offers a plain hostel and affordable prices for those wishing to spend the night. But note that it is not allowed to share a room for people of the opposite sex, so your marital status must be accredited.
Gorg Blau and Cúber reservoirs
Gorg Blau Reservoir is located between Puig Major and Puig de Massanellas and the torrent coming out of this reservoir flows into the Pareis torrent.
Cúber Reservoir is very close to Gorg Blau Reservoir, which is somewhat higher.
The two of them, located in Escorca, were built here because the rains in this area are the most abundant on the whole island. Both meet Palma de Mallorca and surroundings water needs.
Puig Major
It is the highest mountain in Mallorca and the Balearic Islands, followed by Puig de Massanellas, which is also located in Escorca and Serra de Tramuntana. Puig Major is not accessible to mountaineers as it is home to a military station and an air control base.
On the other hand, Massanellas does have access for hikers, starting from the road that goes from Lluc to Caimari and on foot across the Comafreda property; this has a €3 access fee for hikers.
San Pedro Hermitage
It was the first church to be built in Escorca, until the parish moved to Monastery of Lluc. It currently belongs to a private estate and only opens to the public every 29th of June.
What to do
Hiking and mountaineering
There are many routes that start from this municipality and all of them offer truly spectacular landscapes. Lluc is the starting point for many trails crossing Sierra de Tramontana.
Excursion to the Torrent de Pareis
It is one of the most beautiful excursions but also one of the most difficult, so it is highly recommended to do it with an experienced guide to avoid any unnecessary incidents.
Sa marxa des Güell a Lluc
Sa marxa des Güell a Lluc a peu has become a social sports phenomenon, which takes place every year on the first Saturday of August. The starting point is in Palma and the 42-kilometres long journey takes participants on foot to Monastery of Lluc.
Where to eat
You will find several restaurants in Escorca, most of them offering Mallorcan cuisine.
Where to lodge
Among the different types of accommodation in Sa Calobra or Escorca, we find rural houses, shelters or hostels and also luxury hotels. Most of them are located inland and away from the coast.
Check Available Accommodations
Surroundings
Near this town but still having to drive a bit, you will find Sóller and Puerto de Sóller, the villages of Caimari and Campanet, popular for the excursion at Ses Fonts Ufanes, but also the pretty village of Pollensa, which is about 40 minutes away by car.