Banyalbufar is a Mallorcan town located in the Sierra de Tramontana mountain range, west of the island and about 45 minutes by car from Palma de Mallorca city. The town has become quite popular in recent years due to the great touristic attraction this mountain range has become, arousing great interest among visitors.
It is a beautiful town embedded in the mountains, with a lot of history and great traditions behind, that has managed to keep its Mediterranean and Mallorcan essence intact while becoming a fantastic option for tourists visiting the area.
The town is surprisingly small and its inhabitants are few. Despite this, visitors come year after year in order to visit one of the Mallorcan gems, a precious stop that still does not have a mass influx of tourism. Next, we will review everything that is worthwhile visiting and doing in Banyalbufar, so we can make the most of our time.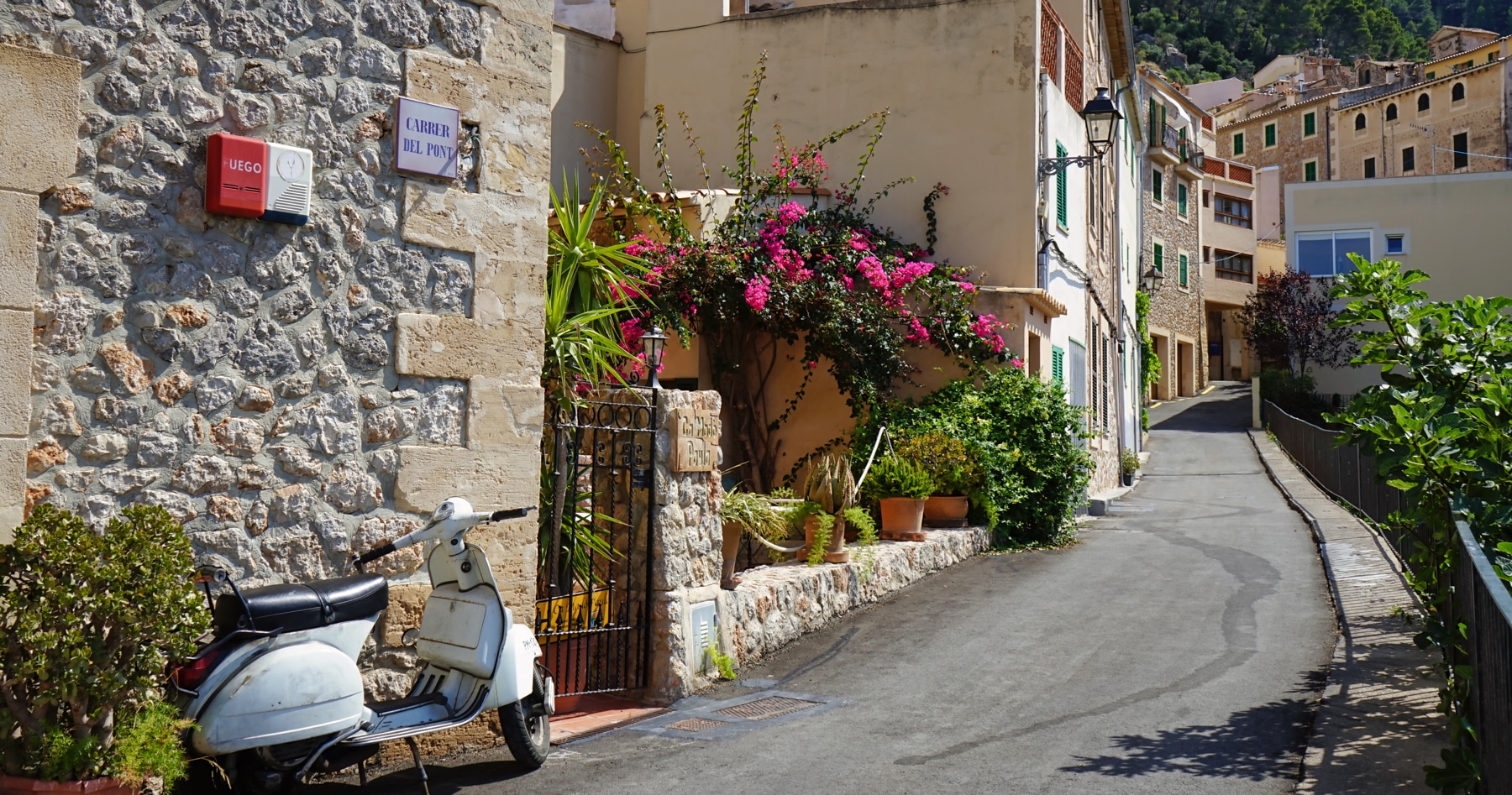 How to get there
Banyalbufar can be reached by car from Palma de Mallorca in about 40 minutes and from Palma Airport in just over 40 minutes.
If you are using public transportation, the bus line 200 leaving Palma Intermodal Station in Plaza España (city centre) takes approximately 1 hour to reach Banyalbufar.
What to see
The village
One of the main attractions in Banyalbufar is the views. Both the town itself and other smaller towns in the area are beautiful to visit and have stunning views for being located in mountainous areas. Just travelling the region by car is meaningful as the winding roads allow us to enjoy the spectacular scenery in the region.
Awaiting in the town centre is part of its historical value. It is highly recommended to take a walk to experience the waterfall and Tower of Ses Ànimes, a historic tower built in the 17th century as a defence mechanism against potential pirate attacks.
Wineries and vineyards
Banyalbufar is really unique. The town has enjoyed the eagerness of its very active population dedicated mainly to the cultivation of grapes, specifically the Malvasia grape, highly appreciated by regional winemakers.
Visiting some of the wineries and enjoying the different stores will be a fulfilling experience. Among them we have the Son Vives winery, whose wines are produced on terraces that have been hand-carved on the slopes of the town. Also Celler Ca'n Pico, which is surely the smallest and most exclusive winery in Mallorca. The vineyards, which are one of the main attractions of this town, can also be visited.
Es Port des Canonge harbour
It is a very picturesque fishing harbour and one of the most unique on the island. Here you will be faced by the impulse of grabbing your camera and taking as many photos as possible as the landscape is breathtaking. It is also a cove with abundant posidonia remains and gravel, where you can swim if the waters are calm.
What to do
Trekking
Nature lovers and those interested in sports activities in the mountains may enjoy a hiking route that goes from Banyalbufar to the beautiful harbour of Es Port des Canonge. The route is well-marked, so no worries.
Beaches 
The beaches and coves are other great attractions of the area. In general, the entire coastal area of ​​the region is very attractive for its proximity to the mountains and forests in the Sierra de Tramuntana mountain range.
Cala Banyalbufar is a beautiful cove with a wild flare that will make nature lovers have the best time of their lives.
Es Corral Fals is an impressive cove surrounded by the stunning and radical combination of mountain and sea coming together to shape to life a truly spectacular landscape. A must-see.
Son Bunyola: this beach is 400 metres on foot from Port des Canonge, where the prevailing presence of cliffs of reddish tones lingers. The beach has thick pebbles and gravel.
Where to eat
This town has plenty of options to enjoy first-class food. Just like Mallorca, Banyalbufar has also benefited from the great influence of foreigners visiting and such trend has reached the hospitality industry.
This is why now, we can find a restaurant such as 1661 Cuina de Banyalbufar, whose owners, two German brothers, offer exquisite dishes. This establishment has without a doubt become a reference not only in Banyalbufar, but throughout Mallorca.
Son Tomás is another option of us to enjoy good food on the island. This restaurant has been awarded the Bib Gourmand distinction by the famous Michelin Guide for its high quality and affordable prices.
As a matter of fact, by just walking around town, we will be able to find many bars and cafés in which to savour a varied range of tapas and authentic Mediterranean food made with local products.
Where to lodge
This town is perfectly prepared to welcome the yearly touristic demand, so it will not be hard for you to find accommodation in one of the charming small hotels available. The different rural accommodations grant the visitor the unbelievable experience of being and resting in nature while getting away from the hustle and bustle of big cities.
Check Available Accommodations
The weather
Banyalbufar has a typical Mediterranean climate. However, its location near the Sierra de Tramuntana mountain range attributes it certain particularities, still managing to maintain pleasant temperatures throughout the year. Tourists who want to get away from the excessive heat in other touristic areas in Spain will find here a perfect place to enjoy themselves all year round, especially during spring and until the end of summer.
Surroundings
Estellencs is a town near Banyalbufar, just about 15 minutes by car. This town has a unique and fascinating landscape that is a worthwhile stop. Its proximity to the Galatzó Mountain makes it a special place and will surely amaze you.
Deià, Valldemossa and Esporles are other towns in the Serra de Tramuntana mountain range near Banyalbufar that will not disappoint you.
Puigpunyent, with its Puig de Galatzó and the Puig de Galatzó Natural Reserve, is a perfect place for hikers, but also for other people longing for nature.