Deyá is a small coastal town, located between Valldemossa and Sóller. Here is where the sea meets the mountains in order to create a place of stunning beauty, what it is today one of the most beautiful towns on the island.
This village has attracted many famous artists and writers, being the English writer Robert Graves the best known of them all.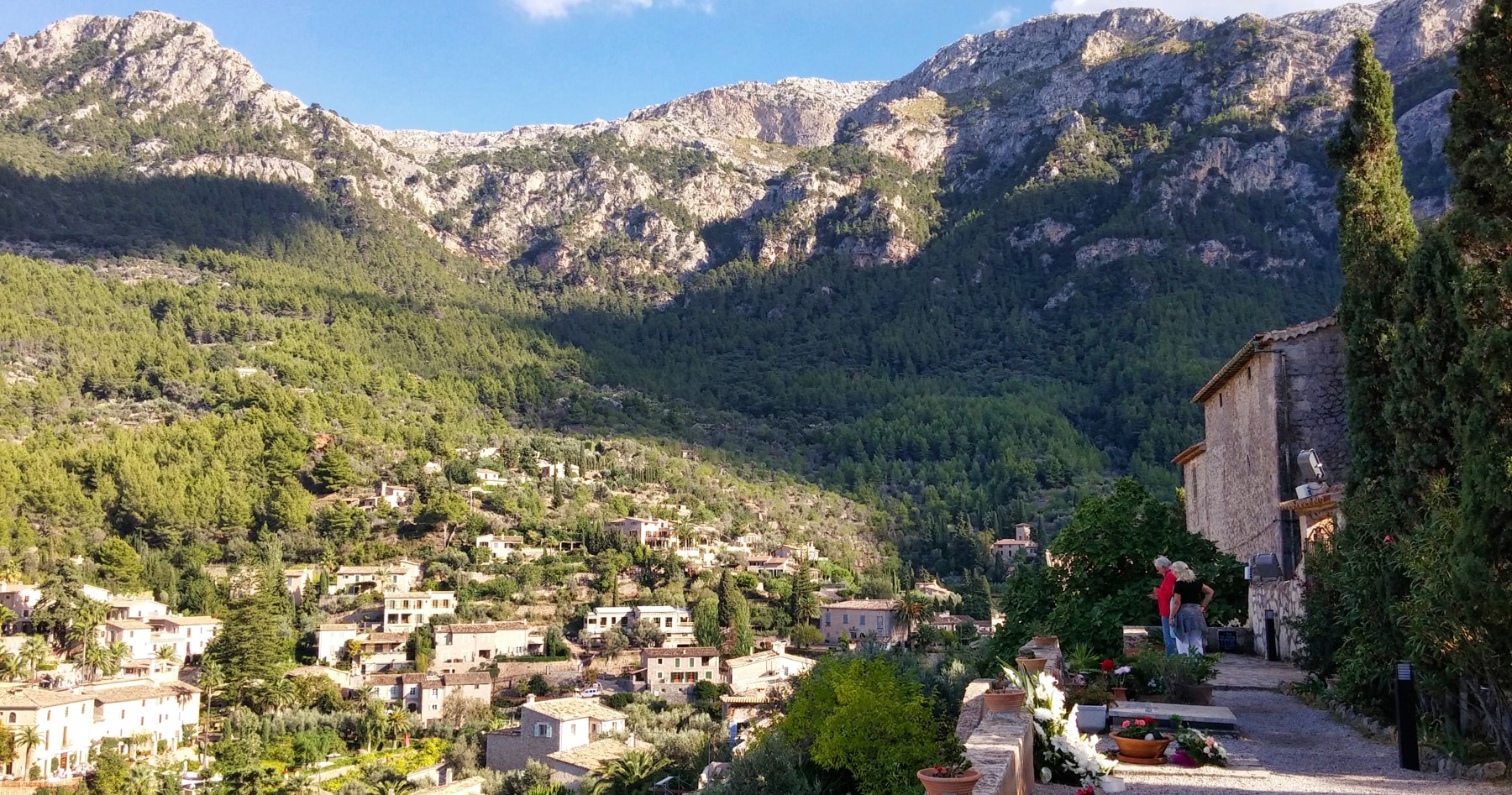 How to get there
What to see 
Na Foradada
Before reaching the village and if we come from Valldemossa, there is a spot along the road that is a must-see and where we could stop. Here, we can take a break and relax in a chill-out bar while enjoying the amazing views of the Na Foradada ( a rock with a special hole in it ), scenery you cannot miss out on. You will be directed here by the Son Marroig and Mirador Na Foradada Restaurant signs by the road. You can eat in either place while contemplating the splendour of the sea and the cliffs.
The village
Once in the village, it is worth walking through its beautiful streets, discovering the landscape created by the environment, the old houses and the stone-paved streets.
The cemetery
The cemetery is a peculiar place, small and charming, located in an elevated area. You can enjoy beautiful views of the town from the top. This is the cemetery where the writer Robert Graves was laid to rest. The place that was once his home in town, Can Alluny, is today a museum.
Bellmond La Residencia Hotel
Bellmond La Residencia Hotel is a good place for you to bring yourself to a stop and have some coffee while witnessing the magnificent views of the area. There is private parking available. Princess Diana and Robbie Williams have been guests at this beautiful hotel.
Son Marroig
Archduke Lluís Salvador owned and lived in this small palace. Today is a museum.
Deià Archaeological Museum
This museum keeps fascinating information about the prehistoric period in the Balearic Islands. It is located within a renovated very old mill.
Beaches
Cala Deià can be reached by car, as it is about 20 minutes from the village. Be sure to visit it and taste some of its fish dishes in the restaurants here.
Another nearby beach is the Llucalcari beach, all rocky.
What to do
Trekking
There are several well-marked routes, such as the routes to Miramar Monastery and Sa Foradada. Access to these two routes is on the road that connects Deià to Valldemossa.
Deià International Music Festival
This festival is an increasingly well-known event that gathers international artists. It's held from May to September.
Where to eat
Deià has several restaurants, bars and cafés, where you can eat or have a drink.
Do not miss out on the Michelin-starred Es Racó d'Es Teix Restaurant or Café Sa Fonda, a very popular bar among locals that usually offers live music. You will find the latter near the pharmacy and up a flight of stone stairs.
Where to lodge 
Deià is a small town but has some accommodations to choose from, such as hostels, 5-star hotels, hotels with swimming-pool or a hotel with spa.
Surroundings
Valldemossa is near Deià. Valldemossa is a charming town where to walk through its stone-paved streets while surrounded by flowers and stone houses. If time allows, we recommend that you visit these two villages on the same day.
Sóller and Port de Sóller are two other places you cannot miss. The tram and the sea and mountain landscapes will be worth your time.