Porto Petro is a small town within the Mallorcan municipality of Santañy, southeast of the island.
Its main attraction is, without a doubt, the beautiful natural bay that surrounds it. Responsible for the attraction of numerous tourists are the spectacular views from the bay along with the coves hiding in it. Here they come lured by the innate charisma, eager to know more about Porto Petro.
With barely 800 registered inhabitants, it is a perfect place to spend a few days on vacation, away from Palma's bustle. Come and explore the streets, enjoy some of the restaurants overlooking the sea and spend a pleasant day on one of its beaches, squeezing all there is in this town's corners.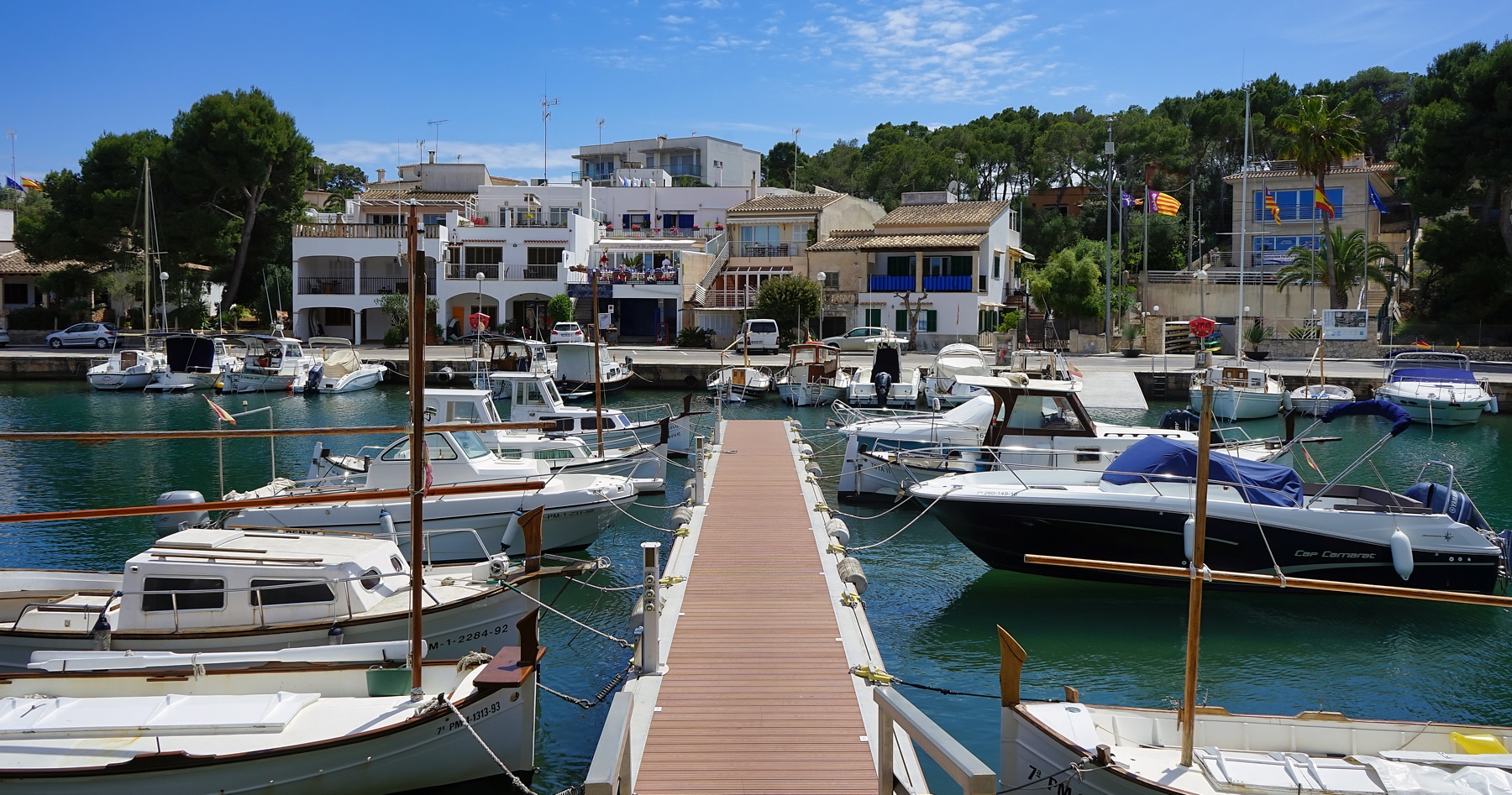 How to get there
Porto Petro is almost 50 minutes from Palma Airport by car. If this is your starting point, take the highway to Santanyí. You will reach the town of Campos at the end of the highway. Cross Campos and continue towards Santanyí, following the signs to Porto Petro. Upon entering, you will be able to park for free near the harbour or its surroundings.
What to see
Being a coastal area, some of the must-see points of interest are:
The harbour
This harbour is narrow, but big enough to accommodate a good number of boats, among which the Mallorcan llaüts stand out, small boats of inimitable beauty typical in the area. In fact, Llaüts were traditionally used for trawling and even though they are still present due to their aesthetics and the specifics of craftsmanship used in the building process, they have come to be used in general as recreational boats.
The Yacht Club
The Reial Club Nàutic Portopetro is a small sports club where various events take place, in addition to being home to the sailing and canoeing school's headquarters.
The yacht club also manages mooring reservations and provides all the necessary services to yachts and customers docking here.
Porto Petro Tower
This building was a watchtower in the past. Currently, it is considered a Porto Petro highlight in all travel guides because of the beautiful views it renders, not only of the sea but also of the surrounding natural environment.
What to do
Rent a boat
There is no doubt that one of the original and alternative way in which you can visit the area is by renting a boat. Motorboats and sailboats are available to enjoy an unforgettable day at sea while observing Portopetro from a different angle.
Trekking
In Portopetro, you can fully enjoy nature while practicing interesting outdoor activities, ideal for unwinding, regain the strength and breathing fresh air. There are several hiking trails, many of them circular and with a low level of difficulty, perfect to pursue with the whole family or friends.
Cycling
For the more energetic and used to practicing sport, there are some specially designed routes for cyclists, but also for the total enjoyment of the wonderful Mallorcan coastline.
Where to eat
A great dilemma you will face when it's time to 'fill your belly' in Porto Petro, since the wide gastronomic offer in the many establishments in the area make choosing pretty hard.
Restaurants serving Mediterranean food are those standing out in Portopetro, especially Mallorcan cuisine. Seasonal products from the area are used to prepare exquisite dishes such as sea bream, fresh seafood of the best quality, first category red meats or rice prepared following an endless number of recipes. In the area, there is also availability of restaurants specializing in Italian food, others of visible French influence, British-style pubs where to relax with a drink or gastrobars with a signature cuisine touch.
No matter the type of cuisine you are looking for, you are sure to find it in Porto Petro but here, you can do it with the best views around.
Where to lodge
In order to get a full rest, you may do it in one of the many resorts with all the imaginable services available: spa, massage service, gym, swimming pool, golf course and even a kids club, so that the little ones can also enjoy their stay.
Another possibility is to choose a hotel more suitable for couples and romantic getaways in a simple environment, where only adults are welcome and therefore, a good rest is more than guaranteed.
We cannot forget about the rural alternative. You can choose a rural hotel with rooms designed in a rustic style and where breakfast is based on homemade products.
Check Available Accommodations
Surroundings
There are other places within Santanyí's municipality you should not miss out on, such as Cala Figuera, a beautiful fishing port that will make you captive. Also Cala d'Or, one of the most touristic areas on the island, with plenty of entertainment places for you to go out and have a drink.
The town of Santanyí, about 12 minutes from Portopetro, offers a nice street tour. If you can, stop by its local market open on Saturday.
Just 2 kilometres away from town, you will find Mondragó Natural Park, a protected natural area of ​​great ethnological and scenic interest, and magnificent coves that you will not be able to forget.