Sea, mountains and serenity
Fornalutx is a Mallorcan village of just 700 inhabitants and small in size, but of an undeniable beauty. It is a picturesque place located in the Sierra de Tramontana mountain range, specifically in the Sóller Valley. The second to none combination of stone buildings and houses and the maze of narrow streets has created a magical place.
Since it perfectly represents a traditional Mallorcan village, it has been chosen to be 'the prettiest town in Spain' in numerous listings.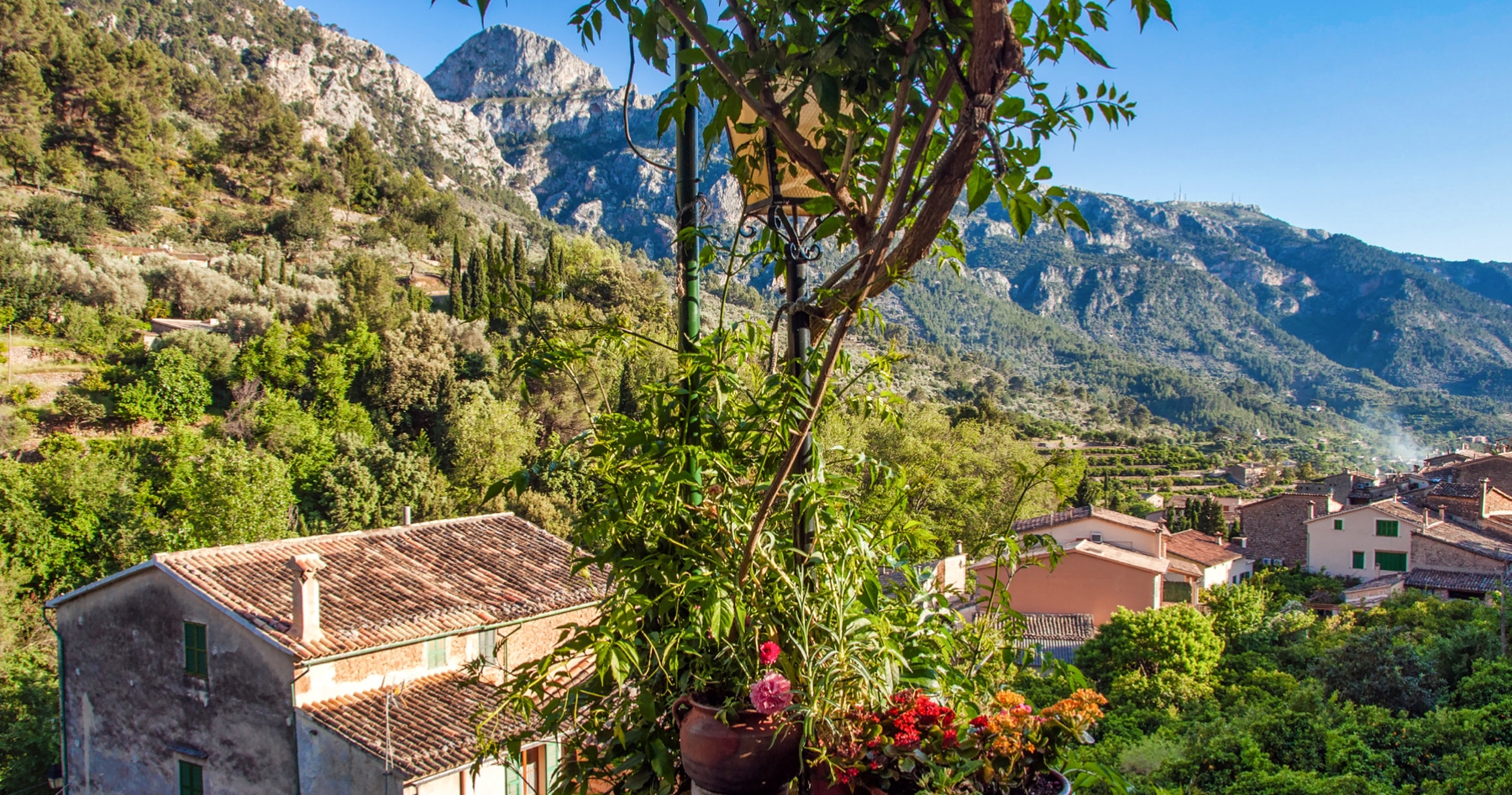 How to get there
Fornalutx is just 33 kilometres away from the city of Palma, so it takes about 50 minutes if you drive along the Ma-11 road.
What to see
Despite its small size, its charm should not be undermined as it has the power to swaddle visitors for hours, a pleasure worthwhile surrendering to. Its stepped narrow streets came about by the steep terrain are nooks where to relax and take the best photos.
The stone streets of Fornalutx take us straight back to medieval times and are undoubtedly an excellent opportunity to spend unforgettable moments in this fascinating and intriguing time. Some of the streets that you should not leave aside are Carrer Esglesia, Carrer de Sant Sebastiá and Carrer del Metge Mayol, among others.
Painted roof tiles
The ancient painted roof tiles date between the 14th and 19th centuries and represent elements of daily life on the island, religious themes and even sayings. Originally, they were the product of superstition and were made to protect the house and the members of the family from all kinds of misfortunes.
Although they are usually red on a white background, there is a wide variety you can see, but you have to pay close attention if you want to find them because they are displayed under the eaves all around town.
The town hall
Its town hall is a must visit place, as it has the peculiarity of having a defence tower dated from the 17th century, displaying a great architectural beauty similar to the tower of a castle.
It is a very particular place that represents in an unprecedented fashion the most traditional feeling in the Balearic Islands, a place that must be visited by anyone engaging in active tourism.
The church
It is the only church in the municipality, from the 13th century, although it has subsequently undergone several renovations until its current style with Baroque overtones was reached. Originally a Gothic style temple, it is composed of a single hall with a half-barrel vault and chapels on the sides. It is a place that embodies the most historic traditions of Fornalutx.
Plaza de España Square
It is the main meeting point in town and there are some terraces where you can have a coffee in a relaxed environment. You will find here the prominent stone and typical Balearic architecture.
What to do
Lovers of photography and of all that is rustic will have a blast with the endless potential to be unveiled by the unprecedented number of corners full of charisma in Fornalutx. Touring its streets during a vacation, reading a book in Plaza de España Square or doing some of the hiking and cycling routes in the Sóller Valley are some of the most recommended activities.
Trekking
There are several hiking trails that will bring us closer to nature in this area, where the mountain prevails while surrounded by lush forests and green meadows, a perfect setting for walking. One of the most popular is the route from Sóller to Fornalutx, which starts at Plaza de la Constitución in Sóller and goes to Ses Barques viewpoint, finding a formidable panoramic view of Port de Sóller, to finally reach Fornalutx.
You will find more information about the routes on the town hall's website.
Where to eat
There are several cafes and restaurants perfect for you to spend a pleasant leisure time in Fornalutx, establishments where you can taste all kinds of local dishes and wine.
The opportunity to have more traditional ones is there, as well as to relish tapas and even Italian food. In spite of being a small town, Fornalutx has numerous services to satisfy all tourists that visit throughout the year.
Where to lodge
Tourists will find it very simple to find a place to stay during their time in Fornalutx, there are at least four hotels. Some are located in the town centre, immersed in its narrow streets, but there are also hotels with stunning mountain views and a relaxing swimming-pool to enjoy a carefree holiday.
Some hotels are in fact perfect for a romantic getaway. Actually, the whole town is ideal to make that happen since the fairytale-like atmosphere and the enigmatic streets have created a special setting. Whatever the case may be, there is a perfect hotel to match all types of visitors so they are sure to enjoy their stay in Fornalutx, a time they will remember forever.
Check Available Accommodations
Surroundings
If you stay in Fornalutx, do not hesitate to complete your visit with a stop in the town of Sóller. Absorb all this town has to offer by walking the streets and taste the local artisan ice-creams, as well as the wonderful oranges that are grown there. And if you dare, take the tram to Puerto de Sóller and savour the beautiful views.
Puerto de Sóller grants an amazing opportunity: you can take a ferry to Sa Calobra, a truly spectacular destination. There, you can visit two stunning beaches, Sa Calobra and Torrent de Pareis.
By car and 25 minutes away, you will find the beautiful town of Bunyola. Come and wander the streets under the eye of the always present Sierra de Tramuntana, a sight you do not want to miss out on.